Dalí Restaurant & Tapas Bar
415 Washington Street
Somerville, MA 02143 (Corner of Beacon & Washington Sts ~ 10-min walk from Harvard/Inman Sq)
To Dali's right, 2 hour parking on Beacon Street is plentiful next to the bike lane.
Phone: 617.661.3254 | Email: info@dalirestaurant.net 
Click here to take a tour of Dali! Powered by EveryScape
Dear Guests… we're very grateful for the pleasure of your company and continued support and want to assure you that employees' and guests' well-being is our priority.  All businesses and human interactions were thrown for a loop when knocked down (but not out) by Covid and forced into survival mode.  We reluctantly have to add a 4% Covid Surcharge to our guests' checks in order to offset safety measure expenses such as paper menus, sanitizer products, patio seating items, to name a few.  This is not a service charge/tip/gratuity and it does not go to any service personnel.  It does, however, keep us from raising prices.
The collective conviviality, spontaneous fun, the warm embraces are all tamped down for the moment and we're "relying on the kindness of strangers" and friends to get us thru this turmoil.  Our deepest THANKS for your support/understanding and protecting each other…  If you have any concerns/thoughts on how we can improve our service please speak w/Kevin (manager).
Hours
Current dining hours are Wed-Sun 5:30-10 pm.  No bar seating until further legal notice but Julio will still shake up your fave/fab cocktails!
Menu
Regional classic recipes from all parts of Spain.
We've had to reduce our Spanish regional classic inventory so our dining offerings may keep changing and for this we apologize.  Dairy-fee and Gluten-free menu options are available upon request.
ToGo Menu for curbside pickup or delivery is posted HERE daily Wed-Sun from 5:30-9:30 pm and all orders must be placed/prepaid online. Delivery is available via UberEats and Grubhub.
Reservations
Reservations for Indoor and Patio dining of parties up to 6 are available, though sometimes limited, via phone 617.661.3254 after 2 pm or Open Table (see link below).  Currently, we're not allowed to book large or private parties.
Patio dining is available weather permitting but we may need to cancel your reservation at the last minute due to unexpected conditions so we advise you to make your patio reservation on the day you'd like to dine. Patio heaters are coming but consider bringing a sweater or small blanket to ward off the chill. In deference to surrounding apartment dwellers we need to clear the patio by 10:30 pm.
Because of fewer tables due to mandated 50% seating capacity, we can only offer our guests 2 seatings per evening and must limit your dining experience to TWO hours on busy or fully-booked nights.  Please consider reserving for 5:30/6:00 since the 8:00 and 8:15 spots fill up quickly.
Please know that if you arrive late and stay later this will inconvenience the next waiting party so we deeply thank you in advance for your consideration.
Large or Private Parties
(currently unavailable) 
Gift Certificates
Who said "You can't buy love?" Click here  to purchase/email a gift certificate and your friends will love you even more, maybe.
To check your Dali gift card balance, Click here.
Infomaniac ~ News you can live w/out but why should you?
Patio  Seating…
(weather permitting)
Reserve via Open Table
or call Dali @ (617) 661-3254
after 2pm for same night reservation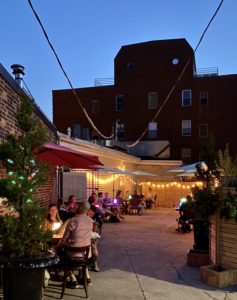 WGBH ~ 30 Years After Introducing Tapas to Boston, Dali Is Still Going Strong…