Dalí Restaurant & Tapas Bar
415 Washington Street
Somerville, MA 02143 (Corner of Beacon & Washington Sts ~ 10-min walk from Harvard/Inman Sq)
To Dali's right, 2 hour parking on Beacon Street is plentiful next to the bike lane.
Phone: 617.661.3254 | Email: info@dalirestaurant.net 
Click here to take a tour of Dali! Powered by EveryScape
Dear Dali Guests…
As of Sunday, December 6th, Dali will be on HIATUS until March or April due to financial and health concerns.
We hope this sacrifice assures our future survival and that we can enjoy each other's company as soon as it's safe to venture out again.
Please check this website and our Facebook page for future updates and our deepest thanks for protecting each other.
Until then we wish you a memorable day!
Menu
Regional classic recipes from all parts of Spain.
Large or Private Parties
(currently unavailable) 
Gift Certificates
Who said "You can't buy love?" Click here  to purchase/email a gift certificate and your friends will love you even more, maybe.
To check your Dali gift card balance, Click here.
Infomaniac ~ News you can live w/out but why should you?
Patio  Seating…
(closed for the winter)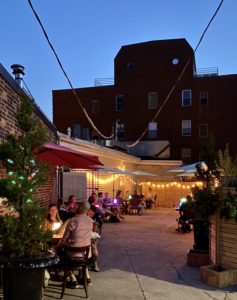 WGBH ~ 30 Years After Introducing Tapas to Boston, Dali Is Still Going Strong…