Information
Dalí Restaurant & Tapas Bar
415 Washington Street
Somerville, MA 02143 (Corner of Beacon & Washington Sts ~ 10-min walk from Harvard/Inman Sqs)
To Dali's right, 2 hour parking on Beacon Street is plentiful next to the bike lane.
Phone: 617.661.3254 | Email: info@dalirestaurant.net 
Click here to take a tour of Dali! Powered by EveryScape
Hours
Sun-Thu 5:30 – 10:00 | Bar until 11:30
Fri-Sat 5:30 – 11:00 | Bar until 12:30
Food
Regional classic recipes from all parts of Spain.
Vegetarian, dairy-free, gluten-free, late night menu options available upon request.
Reservations
Friday & Saturday reservations are available until 6pm. However, we do offer a few reservations after 6pm through Open Table. Please check online for availability or call Dali.
On Friday & Saturday we offer Preferred Seating where we put your name on the waiting list in advance and then give you the next available table if you arrive on time.
Preferred Seating is not a reservation and parties need to be mostly complete before being seated.
You'll be seated before walk-ins but be aware that you could be seated immediately or there could be a wait.
For parties of more than 12 we encourage you to come in before 6 or after 9:30.
For larger parties it's very helpful for you to call us before you leave the house so we can get a final count and start assembling the tables.
Tables are held for 15 minutes. Please call if plans change.
Gift Certificates
Buy one – Your friends will love you even more! Click to purchase.
 Large or Private Parties
On Sunday – Thursday the back room is available for a maximum of 45 people for a prefixed price and menu.
Ask to speak to Aliya for information on large party bookings.
Infomaniac ~ News you can live w/out but why should you?
Gazpacho Andaluz – Andalusian cold veggie soup w/cucumber granita  —  8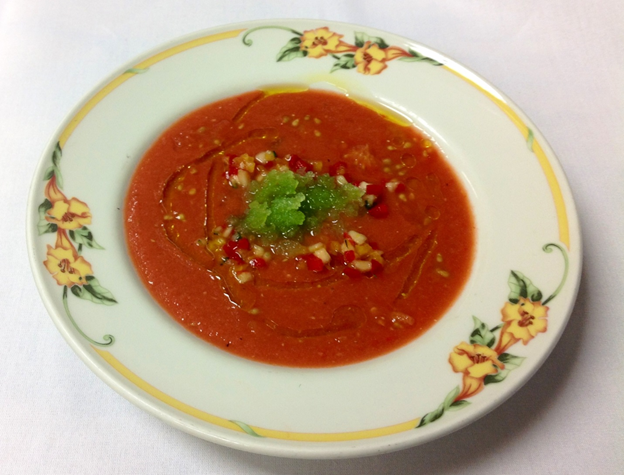 Jamón Ibérico de Bellota – highest quality Spanish ham, free-range, acorn-fed, happy pigs!
marbled, sweet, nutty flavors, leg is aged 4 years
Raciones: Med – 15 or Full – 25